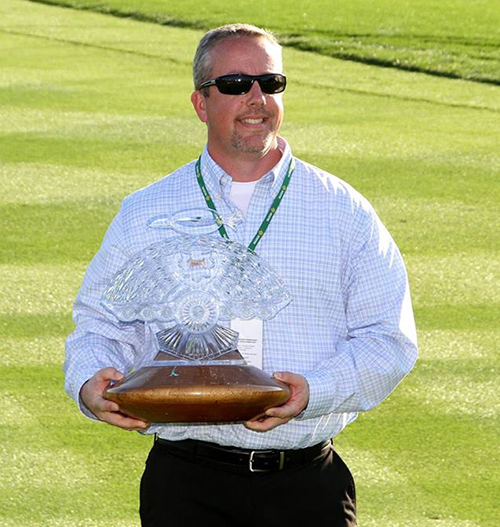 Rob Myers
President
Rob was born in Rochester, New York. At the age of 10, Rob's parents decided to leave the cold winters of Upstate New York behind and moved the family to warm and sunny Phoenix, Arizona. Rob attended Cactus High School in Glendale, where he played both football and baseball for the Cobras.
Myers is a 1994 graduate of Northern Arizona University, earning a Bachelor of Science degree in Public Relations from NAU's School of Communication. While at NAU, Rob developed a passion for golf, playing as often as he could with friends at fun tracks like Elephant Rocks in Williams and Continental Country Club in Flagstaff.
Rob's professional career began in 1994 working on the PR team at SRO Communications, the in-house PR and marketing agency for the Phoenix Suns, America West Arena, Arizona Rattlers, as well as several outside clients, including the Phoenix Open golf tournament. While at SRO and working under the tutelage of Phoenix PR guru Ray Artigue, Rob promoted and publicized sporting events, concerts and family shows, while also planning and implementing PR and special events for the Suns, the Arizona Rattlers, Phoenix Smash (professional tennis) and Arizona Sandsharks (indoor professional soccer).
In December of 1994, Rob moved onto Communication Links, a Scottsdale-based PR and marketing firm specializing in promoting the game of golf. Rob quickly climbed to Vice President of the agency and oversaw many of the firm's largest clients. In late 2002, Communication Links was named the agency of record for the Phoenix Open. In addition to his VP duties at CommLinks, Rob took on the additional title of Media Relations and Marketing Director for the Phoenix Open, a position he held until April of 2015. Over 13 tournaments, Rob served as the tournament's spokesperson, managed all external communications and strategic planning for the golf tournament, the Coors Light Birds Nest concert venue, and for the tournament host Thunderbirds. During his tenure, the WM Phoenix Open (aka The Greatest Show on Grass) exploded in popularity with fans, sponsors, media and PGA TOUR players. The 2014 tournament earned three prestigious awards from the PGA TOUR, including "Tournament of the Year," "Most Engaged Community" and "Best Sales – Year Over Year" while the 2015 tournament set attendance and charitable contribution records.
Throughout his 20+ years at Communication Links, Rob led the market launch of more than 30 new golf courses, hotels/resorts and real estate properties as well as dozens of new products.
In April of 2015, after more than 20 years at Communication Links and 13 years with the Phoenix Open, Rob left to pursue other interests. Tapping into his entrepreneurial spirit, he started the RM PR Group. While still heavily involved in the golf community, the RM PR Group also works with restaurants, special events, concerts and many other businesses looking for effective and efficient PR and marketing assistance.
Rob and his wife, Christina have two children, Alec and Kaylee, and live in Peoria, Ariz. In his spare time, he enjoys playing golf, coaching and watching baseball, camping with friends and family as well as hunting and fishing.